GOVERNMENT ALLOCATES 9.5 BILLION TO STRENGTHEN TEMESA WORKSHOPS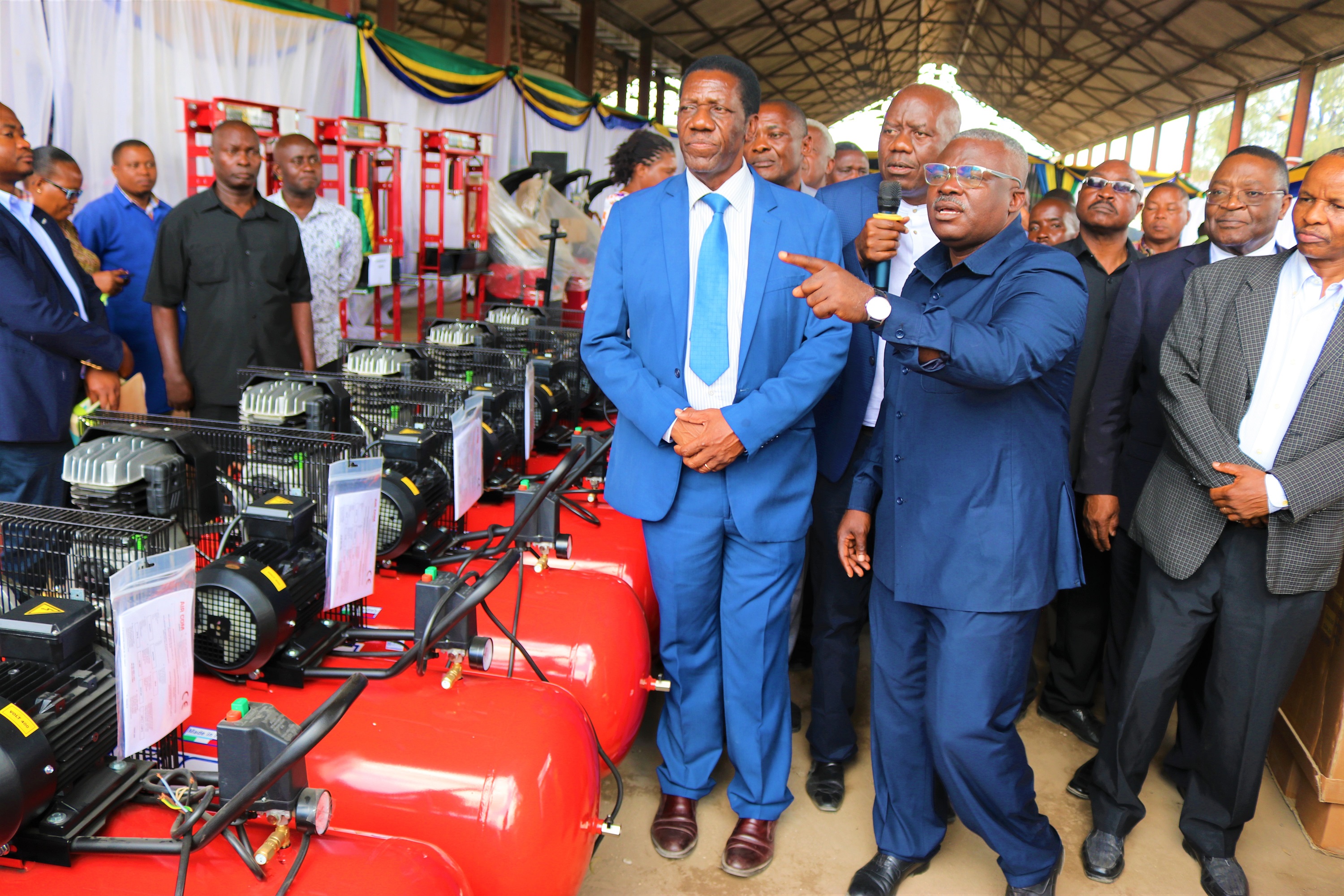 Posted On: September 07, 2020
The Government through the Tanzania Electrical, Mechanical and Electronics Services Agency (TEMESA) has allocated 9,538,970,000 / = billion shillings in the budget for the financial year 2020/2021 for Workshop development projects from the Government Fund (GOT) to improve and strengthen the infrastructure and equipment in its workshops to meet customer expectations.
This was announced today by the Agency's Chief Executive Engineer Japhet Y. Maselle during a brief launch and distribution of new workshop equipments which are expected to be distributed in 14 regions in the country.
Initially, speaking at the event which took place at the Mt. Depot workshop located in Keko in Dar es Salaam, official guest, Permanent Secretary of the Ministry of Works, Transport and Communications (Construction Sector) Arch. Elius A. Mwakalinga commended the leadership and management of the Agency for successfully procuring the equipment and added that the equipment will increase the performance of the Agency's workshops to a large extent.
"Getting the tools is one thing, but using them now to bring positive results to those who need the service from these tools is the key," said the Permanent Secretary, who ordered the equipment to be distributed as soon as possible to the relevant managers to start work immediately. He added that the Ministry has planned to build a new workshop in Dodoma region which will be a model workshops for the provision of better and more modern services.
"Once we have repaired that and we are satisfied now the rest will follow, and for this financial year we have set aside 3 billion for those jobs."
Earlier reading a report on the purchase of the equipment at the event, Chief Executive Officer of the Tanzania Electrical, Mechanical and Electronics Services Agency (TEMESA) Engineer Japhet Y. Maselle said the equipment cost the government Tsh 430,823,810.23 and will be distributed to 14 regions / centers which are Dar es salaam (Vingunguti), Mtwara, Mara, Simiyu, Kagera, Tabora, Iringa, Rukwa, Manyara, Arusha, Kilimanjaro, Tanga, Songwe and Same.
"In the financial year 2019/2020 we received Tsh 2,533,080,000 / = from the Government through the Ministry for development projects in the workshops". He said Engineer Maselle where he thanked the Government as through the order of the Prime Minister of the United Republic of Tanzania Hon Kassim Majaliwa (MP) to require all institutions owed by TEMESA to pay their debts by July 30, 2020, the amount of Tshs. 771,496,076.39 have been paid out of Tshs 25,882,593,038 / = owed.
The Chairman of the Advisory Board of the Tanzania Electrical, Mechanical and Electronics Services Agency (TEMESA) Prof. Eng. Idrissa B. Mshoro, speaking at the event said he thanked the Ministry of Works for continuing to ensure the Agency continues to provide quality services to public and private institutions especially in financing the implementation of various TEMESA development projects.