CONSTRUCTION OF BUGOROLA UKARA FERRY COMPLETED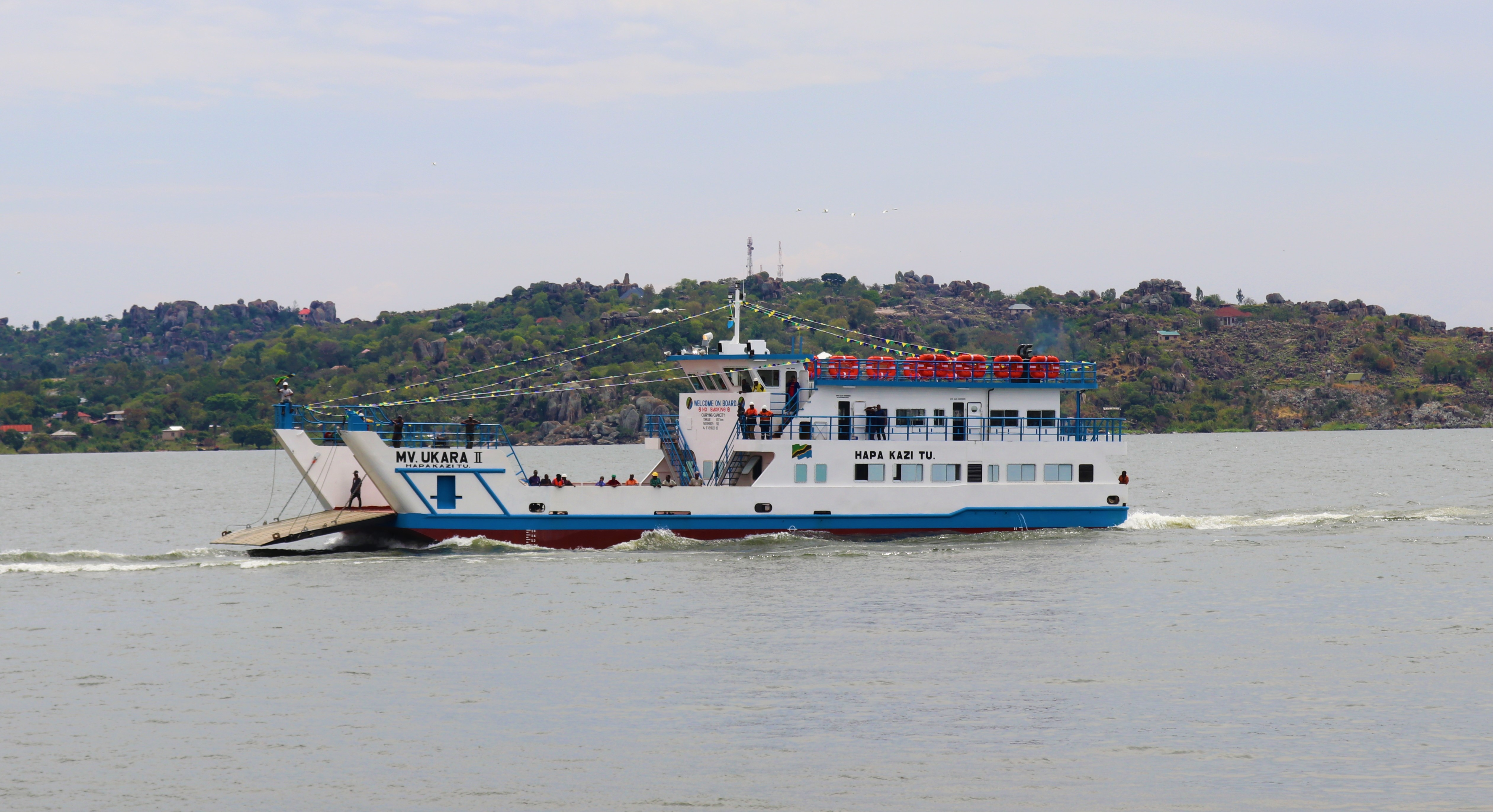 Posted On: October 12, 2020
Bugorola and Ukara residents hope to be handed a new ferry after the next few days following the completion of the construction of the MV.UKARA II ferry HAPA KAZI TU. The ferry whose construction has been conducted by Songoro Marine Transport in Mwanza at a cost of 4.2 billion shillings has been lowered in the water today for the first time for testing to check its safety and stability before being deployed to Ukerewe Islands for start-ups.
The ferry-down event has been held at Songoro yard in Ilemela in Mwanza region and attended by various leaders including Permanent Secretary to the Ministry of Works, Transport and Communication (Work Sector) Arch. Elius Mwakalinga, Mwanza Regional Commissioner. Hon. John Mongella, Chief Executive for Tanzania Electrical, Mechanical and Electronics Services Agency (TEMESA) Engineer Japhet Maselle, heads of mwanza Regional Defense and Security Committee, Technical Services Director from Ministry of Works Engineer Lazaro Vazuri along with various leaders of the Agency and citizens of Mwanza.
Speaking to journalists after the ferry was revealed, Permanent Secretary Arch. Mwakalinga said he thanked the Tanzania government for being able to provide funding that has been used to facilitate the construction of the ferry where he added that Mwanza region is a strategic region and has many islands and that the government should be able to provide funds that have been used to facilitate the construction of ferries.
"The government has issued 15.3 billion shillings for the construction of all four new ferries, but in Mwanza its total has reached 10 billion''. He added that experts from abroad asked for the construction of the ferry at a cost of 22 billion shillings and congratulated the fifth phase government for deciding local experts Songoro Marine to be used to build the ferry and save more than 18 billion shillings that would exceed.
"In this, I take this opportunity to thank and congratulate the Songoro Marine company because they are the ones who said no, they are high-profile patriots, from 22 billion to come to do for 4.2 billion is amazing, we have to congratulate them'. He emphasizes..
Initially Chief Executive of the Tanzania Electrical, Mechanical and Electronics Services Agency (TEMESA) Engineer Japhet Maselle speaking to journalists, said construction of all of these ferries was a Fifth phase Government commitment made to citizens where it planned to build four ferries including the MV. Ilemela that already provides services, the Mafia Nyamisati ferry along with the Nkome Chato ferry.
"This ferry at its reputation is 42 metres tall and 10 metres wide, it will be able to accommodate 300 passengers and 10 vehicles and currently the rest of the work is to measure the capacity of this ferry''. He said the Chief Executive where he thanked the government for providing all the funds that facilitated the completion of the project where he added that the completion of the ferry is a very large comfort for Bugorola Ukara residents who were eagerly awaiting the arrival of the new ferry.
Mwanza Regional Commissioner Hon. John Mongella speaking at the event said today is a historic day reminding him of the MV. Nyerere ferry which capsized in 2018 where Hon. President Dr. John Pombe Magufuli issued an ordinance to the relevant ministry of the rebuilding of the new ferry after the crash, ''today they are witnesses, within almost two full years this ferry is complete and we are all witnesses, our country must thank God very much for getting virtual leader Dr. John Pombe Magufuli, a man of decision making''. He said Mr. Hon. Mongela. He added that all of those funds spent on the construction of those ferry are domestic funds and not from donors.
MV .UKARA II Ferry is expected to begin providing services immediately after the completion of all inspection and security procedures that are carried out by various professionals including professionals from TASAC and DMI.